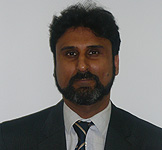 Mr Sohail Choksy
BSc, MBBS, MD, FRCS
General Surgery
30 years of experience
16 years as a specialist
About
Mr Choksy is a highly experienced surgeon with expertise in varicose veins which he treats using minimally invasive methods such as radiofrequency, laser, and ultrasound-guided foam sclerotherapy to ensure the best outcome for his patients. He also has vast experience in circulation conditions due to narrowing in the blood vessels of the legs which he treats using balloon treatment angioplasty or bypass surgery.
Mr Choksy also has expertise in aneurysm surgery (both open and endovascular aneurysm repair) and is the director of the Five Rivers Aneurysm Screening Programme. For patients suffering from mini-strokes, Mr Choksy is able to perform carotid endarterectomy to prevent this. In general surgery, Mr Choksy performs a number of operations including inguinal hernia repair using the open technique under local anaesthetic.
Mr Choksy graduated in 1992 with his medical degree, before training in Cambridge and Sheffield where he gained experience in modern treatments for venous and arterial conditions. He then achieved his FRCS as well as an MD in 2006.
In his personal time, Mr Choksy is very active and enjoys cycling, mountain biking, and playing squash.
Education
Education:
BSc Physiology, London University - 1989
MBBS, University of London - 1992
FRCS, Royal College of Surgeons of England - 2006
MD, University of Sheffield - 2006
Professional Memberships:
Vascular Society and the Association of Surgeons of Great Britain and Ireland
Royal College of Surgeons
Read more
This specialist has not collected any Doctify reviews