General Surgery
19 years of experience
6 years as a specialist
Specialist's working hours
About
I am a Consultant General and Upper Gastrointestinal Surgeon at Croydon University Hospital in the National Health Service and HCA London Bridge in Central London. I am a general, upper GI, Laparoscopic and Hernia surgeon. I specialise in managing hernias of all types and the acute management of gallstones cases and have established an acute pathway for managing these cases at Croydon. I also have a particular interest in abdominal wall hernia surgery, having established the Croydon MDT for managing complex hernias. A significant proportion of my cases are performed with keyhole surgery although a tailored, patient-centered approach is my preferred method for choosing the right operation for each patient. I am the lead upper gastrointestinal (GI) surgeon at Croydon University Hospital and am dedicated to developing the service for the benefit of local patients.
I also developed the anti-reflux surgical service at Croydon and this service continues to flourish.
In my spare time I am a single figure handicap golfer and I enjoy cycling.
To make an appointment to see me please call Simone Caggiano or Caroline Godfrey on 07738 622 799 / 020 3488 2920 or email info@mcs-london.co.uk
For more information visit: www.croydonsurgeon.com, https://hcahealthcare.doctify.com/hca/specialist/mr_rhys_thomas or https://www.bmihealthcare.co.uk/consultants/rhys-thomas
Please make an enquiry for adhoc video consultations as well as face to face consults.
Diseases, Medical Tests and Treatments
Fundoplication
Keyhole (laparoscopic) hernia repair
Open hernia repair
Endoscopy
Appendicectomy
Gallbladder removal (cholecystectomy)
Laparoscopy
Lipoma removal
Skin lesion treatments
Achalasia surgery
Gastroscopy
Video consultation
Visit www.croydonsurgeon.com for full information and procedure-specific information sheets.
Hernia
Inguinal hernia
Femoral hernia
Appendicitis
Gallstones
Pancreatitis
Elective and emergency general and upper GI surgery
Complex abdominal wall hernia repair
Abdominal wall reconstruction
Acute surgical management of emergency gallstone patients
Acute biliary surgery
Anti-reflux surgery
For more information visit: www.croydonsurgeon.com
Procedures
Open Hernia Repair
Lipoma Removal
Abdominal Wall Reconstruction
Hernia Repair (Keyhole)
Achalasia Surgery
Acid Reflux Surgery
Appendicectomy
Endoscopy (OGD)
Excision of Lymph Nodes
Fundoplication
Gallbladder Removal (Cholecystectomy)
Gallstone Surgery
Gastroscopy
Laparoscopy
Liver Function Tests
Sigmoidoscopy
Skin Lesion Treatments
Read more
Special interests
Gallstones
Hernia
Inguinal Hernia
Achalasia
Appendicitis
Barrett's Oesophagus
Bloating
Cholestasis
Constipation
Dyspepsia (Indigestion)
Femoral Hernia
Gallbladder Disease
Gastric (Stomach) Ulcers
Gastritis
Gastro-Oesophageal Reflux Disease (GORD) or Reflux
Gastro-oesophageal Reflux Disease (GORD)
Gastrointestinal Bleeding
Gastroparesis
Heart Burn
Hiatus Hernia
Iron Deficiency Anaemia
Lipoma
Nausea and Vomiting
Oesophagitis
Pancreatitis
Pancreatitis
Swollen Stomach
Upper Gastrointestinal Conditions (Oesophagus & Stomach)
Read more
Education
Education
MBBS - Imperial College School of Medicine - qualified 2003
Senior House Officer, Royal Surrey County Hospital, Guildford - 2005-2007
Specialist Registrar in Upper GI and Bariatric Surgery: South West Thames training rotation - 2007-2015
Clinical Fellow in Hepatopancreaticobiliary Surgery, Royal Surrey Hospital, Guildford - 2009-2011
Consultant General and Upper GI surgeon, Croydon University Hospital - 2015-present
Memberships of Societies
FRCS - Fellow of the Royal College of Surgeons of England - 2015
Read more
Reviews
4.94
Overall Patient Trust rating
Gallstones
Read reviews
(12)
Read all 12 reviews
Hernia
Read reviews
(8)
Read all 8 reviews
Laparoscopic (Key-Hole) Surgery
Read reviews
(5)
Read all 5 reviews
Open Hernia Repair
Read reviews
(5)
Read all 5 reviews
Inguinal Hernia
Read reviews
(4)
Read all 4 reviews
Lipoma Removal
Read reviews
(3)
Read all 3 reviews
Abdominal Wall Reconstruction
Read reviews
(1)
Read all 1 review
Hernia Repair (Keyhole)
Read reviews
(1)
Read all 1 review
Read more
Peer recommendations
Recommended by

7

specialists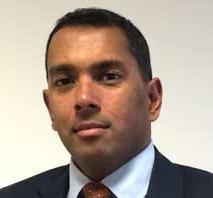 Dr Parth Paskaran
Gastroenterology
Is a colleague
"Mr Thomas is a dedicated and skilled surgeon and is my number one choice when I'm looking for an Upper GI Surgeon to handle problems, relating to Gallstones, Hernias and other complex issues affecting the Upper GI tract. He's always approachable and ensures that this patients are listened to and that everyone is clear on the treatment plan being proposed. He is an exemplary presence in the operating theatre where his calm confidence ensures that the best possible care is delivered every time. Highly recommended!"
09-02-2021
Mr Said Mohamed
General Surgery
Is a colleague
"Rhys is a Consultant Surgeon colleague who treats upper gastrointestinal conditions such as gallstones. He is a skilful laparoscopic surgeon who puts the care of his patients at the heart of his practice. I have seen at first hand the dedication and commitment he shows towards his patients. Rhys is a colleague whom I value his opinion and I recommend him highly."
24-05-2020
Mr Will Sarakbi
Breast Surgery
Is a colleague
"Rhys is a fantastic colleague and an outstanding surgeon. I have full faith in his expert opinion and operative experience. He is a good listener and is very well liked by his colleagues and patients alike. "
24-05-2020
Recommended for:
Acid Reflux, Gallstones
+ -1 more
Mr Jonathan Walczak
Orthopaedic Surgery
Is a colleague
"I am happy to refer Mr Rhys Thomas, as an excellent General surgeon, with a specialist practice in Gallstones, Acid reflux and Pancreatitis. "
24-05-2020
Recommended for:
Acid Reflux, Pancreatitis, Gallstones
+ 0 more